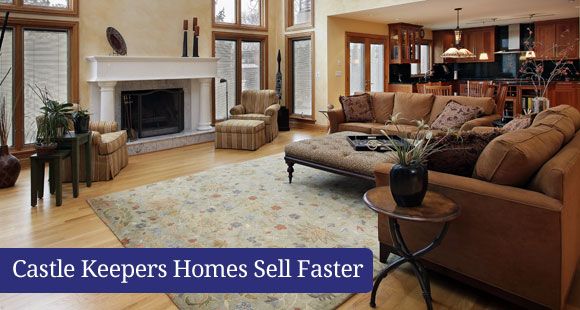 If you are looking to sell your house quickly and it is vacant, why not give yourself a competitive edge. The 28 year old Castle Keepers® Program is a proven way to make your vacant house look more beautiful and appealing to potential buyers, selling it more quickly. Staging a home with beautiful furniture creates positive emotions in buyers, which is what sells houses. The Castle Keepers® Program will also alleviate many of the problems which come with vacant houses such as: being too hot or cold, dead insects, vulnerability to vandalism, physical deterioration, just to name a few. Allow buyers a chance to emotionally decorate your house with their furniture in their minds eye, by having your house staged by the Castle Keepers® Program "Free of Charge" to you.
Psychologists claim that 80% of people do not have the imagination to see their furniture in a vacant room. However, when the room is staged, they are able mentally to move from "what they see to what they have" and envision themselves buying and living in your house.
Our innovative program takes a vacant house that has been sitting on the market and, with the help of Castle Keepers® Professionals, stages the house with nice furniture. This gives the house a greater emotional appeal to potential buyers, which can help the house sell faster and at a higher price.
Castle Keepers® provides this service at no charge to you or your Realtor. It will dramatically improve the appearance of your vacant house and greatly increase the probability of it selling quickly. The appearance of your house while it is on the market is improved by staging it with beautiful furniture to make potential buyers feel emotionally attracted to the house during showings. This emotional appeal occurs on both the conscious and unconscious level.  Positive emotions are what causes most buyers to buy houses.
SaveSave
SaveSave
SaveSave
SaveSave

Saves You Money
Greatly reduces insurance premiums and stops cancellation of Home Owners' Liability Insurance Policy.
All utilities are paid by the castle keepers.
Minor maintenance is done by the castle keepers.
Lawn care and pool maintenance is provided by the castle keepers.
Estimated monthly cost savings for owners on a typical $250,000 DFW Home is $700 – $1,000.
There is no charge to the owner for Castle Keepers®' services.
Castle Keepers® receive a small monthly fee from the castle keepers while they reside in the house.
Protects Your Home
$300,000 castle keepers Liability Insurance.
$2,000,000 Castle Keepers® Liability Insurance.
Helps protect your property from vandalism, freeze damages, & cracked foundations.
Avoid the "Distress Sale" connotation.
The house is occupied by "Screened" castle keepers whose furnishings complement the house.
Castle Keepers® Homes Show Better
Houses have a staged, model home atmosphere.
A staged home has greater emotional appeal.
A "Lived-In" home attracts more buyer traffic.
Your home is kept in "Show to Sell" condition from 9 AM to 8 PM daily.
The first priority of the castle keepers is to keep your home neat, clean and tastefully staged to enable your Realtor to sell your home more quickly.
Homes Sell Faster
An occupied, well staged home will be on the market for a shorter time and sell at a higher price.
Saves you money.
Helps you sell your home faster and at a potentially higher price.
The Downside of a Vacant House
More vulnerable to vandalism, frozen water pipes, and water leaks.
Insurance companies will not insure a vacant house after 60 days, or they will charge you excessive amounts – up to 7 times more.
Leaving a house vacant leads to deterioration which reduces the property value from:

Freeze damage
Foundation cracks
Loss of expensive landscaping
HVAC malfunctions

Holding costs also increase dramatically across the board because of:

Repair bills
Utility bills
Higher maintenance costs
SaveSave
SaveSave
"

Prior to Castle Keepers moving into our house, we had received no offers for over 6 months. After the castle keepers moved in, we received an offer within 2 weeks, that we closed a month later. I am very pleased to recommend your company to others!"
— Jay A. Lajone, Esq.
"

I wanted to take this opportunity to express my appreciation for your efforts in assisting with the prompt sale of my home. I feel that your service was instrumental in its quick sale in approximately two weeks. My realtor received numerous compliments on the staging and quality of the appearance which prompted multiple offers very quickly. Lisa was very responsible and accommodating regarding the numerous showings. Again, my thanks for your support and assistance. I am very comfortable in providing this testimonial for a job well done. Continued Success to You and Castle Keepers!"
— Lynn Sornsen, Home Seller
"

We want to thank you for the great work you did leasing and managing our house in Carrollton, Texas. When it came time to sell it, the work that Castle Keepers did supervising and hiring contractors was important to us, as property owners who had moved and could not be there to personally oversee the work progression. We felt like we had a great representative and appreciated the work that you did with pricing and selling the house. We are pleased that we received the full asking price and that the house closed very quickly in July 2015. We would recommend your services to other property owners who want to sell and/or lease their house in the Dallas Metroplex. Thank you again."
— William Mueller